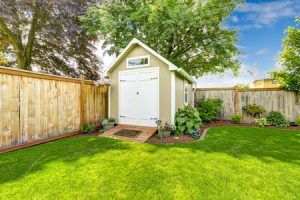 Your house is getting cluttered, and your garage is getting piled up with yard tools. You're looking to clean up your house and get rid of some junk that you don't need. A shed in your backyard might be the best solution to store items you don't need in your house or garage. Before you go ahead with building one, you'll need to make sure you know where exactly your property is.
Land Surveying
A land survey will determine the boundaries of your property, so that you'll be able to set your shed within those lines. This is important when you have neighbors, so that no conflicts break out in the future, or during the building process.
Why you should get a land survey before?
Eliminate/settle disputes between your neighbors (OR BEFORE A DISPUTE BEGINS)
Provide a site plan for the town during the planning stage for a new build.
Determine boundary lines
Allow for additions and new builds
When planning to build a shed on your property, it's always good to know where your property lines are. If you're looking to build right on the edge of your property, you'll need to determine specifics. This also relates to building fences.
Zoning Setbacks
Setbacks are restrictions on buildings for homeowners. Depending on the size and dimensions of the shed, you'll have to get it approved legally. Violating these setbacks can lead to legal issues, fines, and removal of structures on your property. Land surveyors will come in and make sure this is all set in place and you have permission.
BLAZE Design
At BLAZE Design, David E. Spurr is a licensed land surveyor in Vermont and New York. He has over 30 years of combined surveying experience in both the military and in the private sector. He has expertise in boundary and subdivision surveys, residential and commercial planning development, and site planning.
Contact BLAZE Design at 802-442-2892 for more information on how we can help you with your land survey and let you get started on your next project!