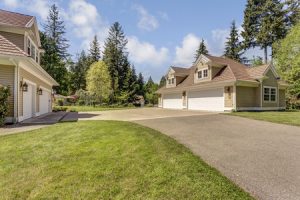 Building a detached garage or other outbuilding on your property has many great benefits to your home. It grants you more space for cars and storage. It also gives you the option to turn the current attached garage into another convenient space for your home. One thing you must consider with an addition, like a garage, is the land survey that you may need.
Why Do I Need a Land Survey?
No matter where the addition is on your property, additions often push close to property lines. If you are not sure where your property lines are or want to stay on the safe side, it is recommended you obtain a land survey from a professional like BLAZE Design Inc.We specialize in land surveying and local permitting, since a building permit may be required from the town before constructing the addition.
When building a detached garage, you may need to obtain this information from BLAZE Design Inc., a licensed land surveyor in order to build your addition without encroaching on the property boundaries or other town imposed limits such as zoning setback lines.
It's always a smart decision to play it safe when it comes to additions on your home by getting a land survey done by a professional like us. This will save you a massive headache in the future if a problem occurs.
BLAZE Design Inc.
At BLAZE Design, David E. Spurr is a licensed land surveyor in Vermont and New York. He has over 30 years of combined surveying experience in both the military and in the private sector. He has expertise in boundary and subdivision surveys, residential and commercial planning development, and site planning.
Contact BLAZE Design at 802-442-2892 for more information on how we can help you with your land survey and let you get started on your next project!