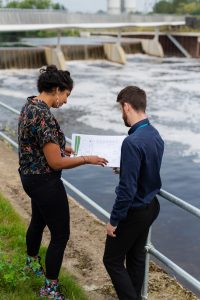 Land surveying plays a major role in civil engineering because in order to build major structures such as tunnels, bridges, highways, railways, and sewer lines, surveys need to be performed by a professional land surveyor beforehand. 
Land Surveying is Required
No project can be constructed correctly and fully until a survey is conducted because the final version of a project would not be mapped out for the engineers and construction members. This would cause engineers to struggle to finalize a job.
Here are several different types of surveys that go along with civil engineering projects:
Land Survey – Determines the boundaries and property lines. This also includes easements, building setbacks and other information as it relates to the property boundaries.
Control Survey – Determines vertical and horizontal positions of control points.
Topographic – Generates a contour map of an area that has man-made and natural features on the property.
Construction Stake Out – Determines the location above and / or below ground and stakes the location as it relates to the project and property.
There are other surveys in the civil engineering process that are done in order to finalize a project and construct it.
The Importance of Land Surveyors
If we didn't have land surveyors, it would be a nightmare in our society. Land surveyors are essential in all aspects of development and can assist engineers, architects, land planners, and home owners as well as many other fields. Land surveyors help solve land problems in our world. Without them, construction projects, civil engineering projects, and other development projects would not be done properly. We would have issues with property disputes and construction progress. Ultimately, land surveyors help to save the day.
At BLAZE Design, we specialize in land surveying for many industries that need help. From commercial and industrial site design to residential and commercial planning development, we can help you get the job done. Contact BLAZE Design at 802-442-2892 today to learn more about our land surveying services and project referrals.