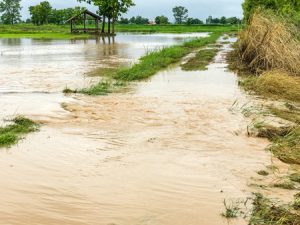 Flooding can leave you with a destroyed yard, flooded basement, and damage to the foundation of your home. These things can be a headache to homeowners but staying proactive before a flood happens is essential. Land surveying plays a big role if your property is susceptible to flooding.
What Goes into a Flood Study?
BLAZE Design Inc.can conduct a FEMA (FIRM) flood study to determine your flood risk. A flood study consists of using surveying equipment to determine the elevations of the lowest floor of your home (including basement), mechanical equipment, and adjacent land. Using the results of the flood study and official flood maps issued by FEMA, a Flood Elevation Certificate can be produced for a homeowner.
The Benefits of a Flood Study
Hiring us to conduct a certified flood study will save you money in the long run. Whether you are in a high-risk zone or not, you may need flood insurance because most homeowners insurance doesn't cover flood damage. If you don't purchase flood insurance, the cost of the damages to the property can be tremendous. Tropical Storm Irene, for example, dumped as much as 11 inches of rain on parts of Vermont, and caused $733 million in damage.
Annual premiums for flood insurance can be extremely costly, so it's extremely important to get a study done. Flood insurance companies will use a Flood Elevation Certificate from a licensed surveyor to determine the proper insurance premium rate.
BLAZE Design Inc.
At BLAZE Design Inc., David E. Spurr is a licensed land surveyor with experience and expertise in FEMA Flood Certifications. If you're wondering whether your property is above or below the base flood elevation, contact us at 802-442-2892 today to find out how we can help you!