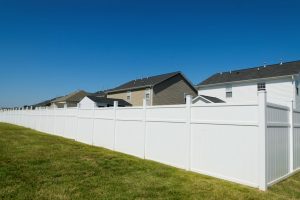 A fence can be a great addition to your property. It gives you many great benefits including more privacy and preventing animals or rodents from getting onto your property. What many homeowners don't know when putting a fence up is that it's an addition on your property, which means a survey is needed to identify property lines. It's an essential task, especially if you don't know where your property line lies.
Hiring a Land Surveyor for Putting up a Fence
Hiring a land surveyor to conduct a survey on your property is important when installing a fence around your yard. It's important because you never want to cause a problem between your neighbors and yourself. For example, your neighbors may get a little annoyed if your new fence creeps on their property. Another thing to consider is if you're installing a wood fence, the good side of the fence has to be facing their property. There are many cases where these guidelines are not followed and disputes among neighbors occur.  
Why Hire a Land Surveyor?
Avoid Legal Trouble
Avoid Civil Disputes with Neighbors
Know Where your property lines are
Be Considerate of Your Neighbors
Having a survey done before installing a fence is important because you're already putting up a border for privacy. Whether you have good relations with your neighbors or not, making sure you don't cause any trouble with them in the future is crucial.
It's considerate before putting up to mention it to your neighbors, so they know that you're not just putting up a fence to block them out, even if you are. If you want privacy, let your neighbors know that you're hiring a surveyor to make sure the property lines are determined before putting up a fence.
BLAZE Design Inc.
Here at BLAZE Design, we specialize in land surveying tasks including property surveys, boundary surveys, construction site support, topographic, flood study, subdivision, and more!
Wondering where to turn to before installing your fence? Contact BLAZE Design Inc. at 802-442-2892 today to learn more about our surveying services and how we can help you be prepared in order to install your fence.