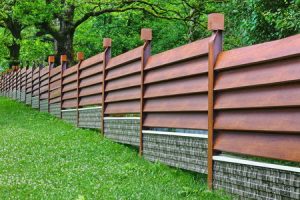 Putting up a fence in your yard can be a difficult decision at times because you want some privacy in your life, but you don't want to come off the wrong way as a neighbor, or maybe you do. You will have to consider some things before you do so, which includes land surveying.
Reasons to get a fence
It's getting to be nice weather out, and you're looking to have some cookouts and gatherings on your back patio or just in your backyard. You'd like to have somewhat of an exclusive feel, instead of giving your neighbors access to the view of the party. Maybe you have a great relationship with your bordering neighbors, but you would like a backyard getaway.
Why it's important to get a land survey done
If you don't exactly know where your property lies, it is recommended to get a land survey, especially when installing a fence. If you install a fence on your neighbor's land, this could cause and issue in the future that could require you to take down and rebuild the fence, which can make a dent in your wallet. Nobody wants that, and this will make it considerably awkward with you and your neighbor.
Here is why you should get a land survey:
Determine where your property lies
Protecting your investment (driveway, trees, additions, etc.)
Minimizing future disputes
Knowing the regulations
You never want to cause a dispute with neighbors or the town about your land. So, a land survey is encouraged because if not, you may be limited to what you can do with your home in the future. Installing a fence isn't as simple as it seems because of this. Knowing where your property lies and the regulations on fence dimensions can be a huge help when putting one up. For example: if you're installing a wood fence, you'll need to know which side of the fence faces what.
Hire a surveying company
It is a smart move to hire a land surveying company when deciding on putting up a fence in your yard. If you don't exactly know the dimensions of your property and where exactly the lines are drawn, contact Blaze Design Inc. at 802-442-2892 today!