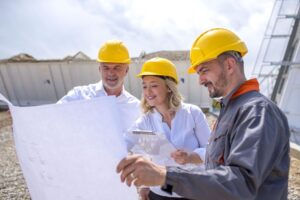 One of the first steps before beginning any construction project is typically land surveying. This part of the process is essential for the safety of the present and future of the building and its surroundings. If you're planning on building a home or office, it's vital to have a professional land surveyor measure, map out, and assess the land you want to build on to make sure that the ground is safe to work or build on.
Understanding the Lay of the Land
Let's say that you want to build a home and you've found the perfect land in the perfect area with the perfect space for a yard. You have all of these ideas running through your mind of where you want to put the swimming pool, how big you want the house to be, and what kind of driveway you want to have. As eager as you are to set the process in motion, it's vital to have a land survey done to ensure the acreage you want to build your lifelong home on is suitable for your present and future construction plans.
Why Are Land Surveys Important?
A land surveyor will come out and inspect the land's topography where you plan to build your new home or other building on. Through a survey, you can determine any hazards that may not be obvious from just looking at the property, including assessing the ground for potential flooding hazards or unstable terrain that could be at risk of erosion or collapse. A surveyor can also inspect many other parts of the land and its surroundings, and in many cases even identify features that may be obscured, like old covered wells or other issues.
Land Survey Results
The completed land survey includes a detailed report of the surveyor's findings, and having a land surveying completed will let you know definitively whether or not the land is safe enough to build on. It can also help you determine whether you need to make any specific alterations or pre-construction work, like building retaining walls or grading certain features to make a property suitable for your construction plans. Not only is a survey vital for the safety of your construction crews that will build the new structure, as well as the individuals living inside the home or working inside the building once it's all built.
An important note to keep in mind: an inaccurate land survey or not having one done at all, can put your crews at risk of being injured on the job. Don't take that risk; call to have a land survey before any kind of construction begins. BLAZE Design can take care of all your land and property surveying needs with our full range of surveying services. We can also help with permitting processes that may be necessary for state and local compliance. We are available for work on sites in both Vermont and New York, so if you're in need of a survey, give us a call today at 802-442-2892.