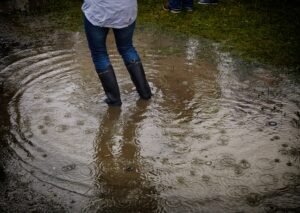 Suppose you've found "the perfect setting" to build your dream house, and there's a small stream out back. Before you buy the land, you should have a flood study done. One of the most important things a person or company should know before buying a property is whether or not it's in a flood hazard area. In other words, is there the possibility of a flooded basement or worse? How likely is an area to experience real and significant flooding?
What Can a Flood Study Help with?
A flood study can be used to determine the probability of an area of land being prone to flooding. Using statistical analyses of historical records concerning things like river-flow and rainfall, along with floodplain topographic surveys, and hydrologic/hydraulic analyses, a flood study can be a very valuable tool when considering the best place to locate a house or business.
When a property is determined to be located in a flood prone area, it's a good idea to get flood insurance just in case that "once in a lifetime" flood occurs while you're alive. FEMA manages the National Flood Insurance Program, which may be of help to you.
Analyzing the Data Collected
Data from an older flood study can serve to give you an idea of how flood prone an area is, but it's also wise to get a current flood study done, since many factors affect an area, including changes in annual rainfall over time and changes in the physical flow of streams and rivers.

BLAZE Design Inc. is a comprehensive surveying company dedicated to providing quality and cost-effective land use planning and surveying services in Vermont and New York. Surveyor David E. Spurr does flood studies where he establishes elevation levels for flood insurance. When you need someone to verify to an insurance provider the potential of flooding on your property, BLAZE Design Inc. can provide the flood study with appropriate data.
Contact BLAZE Design Inc. at 802-442-2892 today or visit us online for more information!