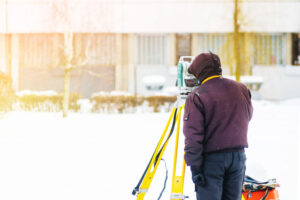 Surveying a property in the middle of the winter when there is snow on the ground is certainly not ideal. Snow will often obscure land markers and make it difficult for surveyors to see the property they are surveying. But a land surveyor should be prepared to work in any kind of weather to get the job done, and performing a survey of a property in inclement winter weather is far from impossible.
Many construction companies and landowners use the winter months to plan out projects to start in the spring. That means that they need to have a survey completed in the winter so that they can make any necessary adjustments in their plans and stay on schedule. Fortunately, it's not impossible to survey a property in the winter as long as you have a plan.
Winter Obsticles
There are many different kinds of hazards that surveyors need to be mindful of when working during the winter. Extremely cold temperatures can have an adverse effect on certain survey instruments, so before surveying begins, a surveyor will often take a look at the temperature ratings of all tools to ensure that the frigid weather doesn't result in incorrect readings. For the same reason, we also have to dress for the conditions to avoid freezing while out in the winter weather.
Another consideration is high winds. Heavy blowing and drifting can lead to debris moving around or snow drifts forming that can obscure the landscape or even knock over surveying equipment and cause damage. There are also some kinds of equipment that can't be out in the snow too long – especially if the snow is particularly heavy and wet. Not only can this prevent getting accurate readings during a survey, but it can also cause moisture damage.
BLAZE Design Inc.
BLAZE Design understands that you may not be able to wait until the spring to have a survey done at your property, which is why we specialize in doing surveys year-round. We have more than 30 years of land surveying experience in Vermont and New York and have helped provide countless clients with the surveys they need in all four seasons. To learn more about our full range of surveying services or to schedule a survey, call 802-442-2892 today and find out how we can help you this winter.